Hi there, I'm David Wylie. As you guessed from the title, this is a quick introduction to who I am and how I got started on this path of becoming a writer.
Looking at how I grew up, reading was a part of life that was just there. I have four older sisters, and one younger. Between them and my parents, reading was everywhere!
In the house I grew up in, and where my parents still live, there were always books. The front room has a bookshelf that covers almost the entire wall, and these days, books are stacked two deep. Everyone also had their own personal libraries proudly displayed in their rooms.
When our home libraries didn't cut it, my mom would always take me to the public library. I read books left and right, sometimes staying up till midnight, 1am, 2am… (Mom if you're reading this I definitely was not staying up that late).
I started reading those books at a really young age. By the time I was in second grade I was already reading the Harry Potter books. Those are the first books I have distinct memories of reading, and I didn't stop. Before high school I had read hundreds of books.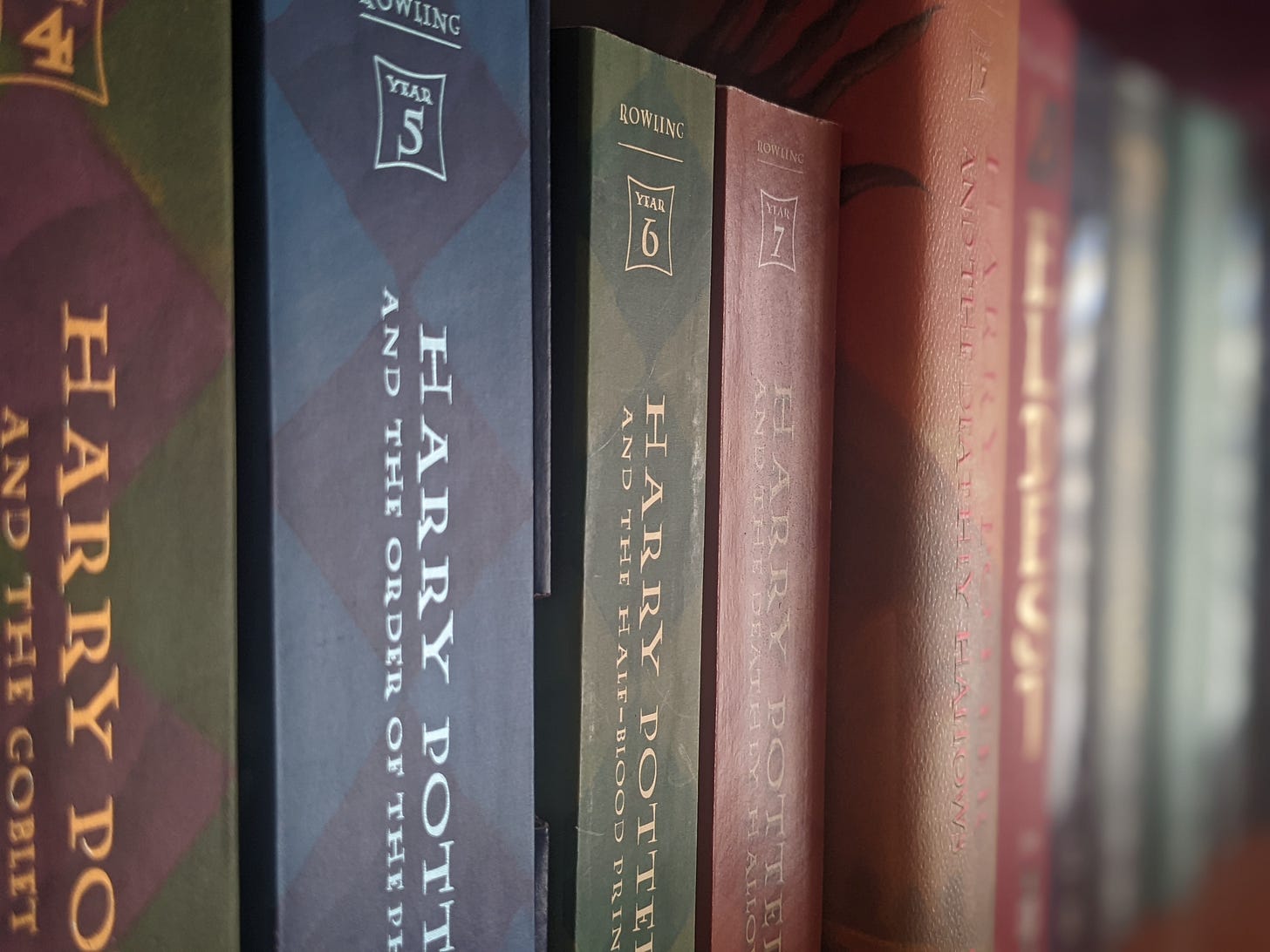 Whenever I finished a series I would go look through our library until I found something new to read, or sometimes reread. There are still quite a few books on those shelves that I have yet to read.
Over the years, as I've discovered new authors and series, my own collection of books has grown to over 200 books. Not including e-books. I know there are more substantial personal libraries out there (several of my sisters' collections) but it's mine.
Enough about my love for reading, for now. On to my eternal hatred for writing and how it ended well shy of eternity.
Writing is HORRID. At Least I Used To Think So
Why was writing so terrible? To this day, I honestly don't know why I felt that way. But for whatever reason, I completely despised writing assignments and English classes. If you have any insights as to why, leave a note in the comments.
Thankfully, I had two major experiences that completely changed my outlook.
The first was in an English class at my local community college. First day of class, I walked in and didn't even recognize the professor. She was fairly young, and kind of hipster, mingling right in with the students. I didn't realize she was the professor until the bell rang and she walked up to the front of the room and began teaching.
Through her, I came to understand that writing didn't suck, and I was actually a pretty good writer. That teacher lit a small ember inside of me, telling me that maybe I could be a writer. That ember would ignite into a full fledge fire thanks to Spartan Smackdown.
Spartan Smackdown
Yes it is exactly as intense as it sounds, albeit for different reasons than you might be thinking. Spartan Smackdown does not involve getting smacked by an actual Spartan warrior. Are there even still Spartans? I'll look into that and get back to you.
Spartan Smackdown is a term coined by my good friend Jace and some of his friends.
Spartan Smackdown – Verb

Friends discussing the greatest elements of different stories and combining them to build worlds and societies until new stories are born.
Jace introduced me to the Spartan Smackdown when we worked together setting up weddings. I came to love the story that he and his friends created. Our conversations evolved into new ideas, worlds, plots, heroes and villains. After weeks and weeks of Spartan Smackdown, I was tired of just talking. I wanted to write.
Wrapping Up
This of course is not the end to the story, we are just getting started, I still have many more characters to introduce you to. Just as many of the best books are a series, this too will be a series. A journey of sorts, a place for you to discover new ways to read, to write, and to be among the words.
Please subscribe to get the most up-to-date posts, and invite someone to subscribe as well. Journey's are much more fun enjoyed with someone else. I'm here because of others influence.✓
Quote
Nothing summarizes my childhood and passion quite like this quote from George R.R. Martin
"I have lived a thousand lives and I have loved a thousand loves, I've walked on distant worlds and seen the end of time.

Because I read."
More Words (If you didn't already get enough)